A new voluntary Health Food Star Labelling system aims to give Australian and New Zealand consumers greater insight in the nutritional value of their food at a glance. Will it lead to healthier choices?
In June the Minister for Food Safety, Nikki Kaye, announced that the Government will be joining with Australia's (voluntary) Front of Pack Nutrition Labelling system. This new Health Star Rating food labelling system is about making it quicker and easier for New Zealand consumers to make better informed, healthy choices. Hurray!
So how does the Health Food Star Labelling work?
The Health Star Rating System uses a star rating scale of ½ to 5 stars and, except for some exclusions like alcohol, it is able to be used on all packaged food products for retail sale.
Foods with more stars are said to have better nutritional value. The number of stars associated with each food is determined by an algorithm that considers the overall nutritional value of the food product – not just one aspect, such as sugar or fat content.
Read more from Food Safety NZ.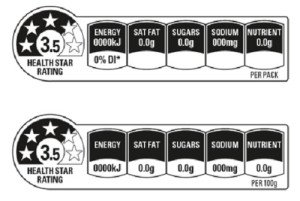 The front-of-pack labels use a five star scale to reflect the nutritional value of the food product.
According to the Ministry for Primary Industries the system takes into account four aspects of a food associated with increasing the risk factors for chronic diseases (energy, saturated fat, sodium and total sugars) along with certain 'positive' aspects of a food such as fruit and vegetable content, and in some instances dietary fibre and protein content.
It is expected that it will be six to 12 months before the label starts appearing on shelves. Wow!
What do the experts have to say?
Dr Helen Eyles, Research Fellow, National Institute for Health Innovation, The University of Auckland, comments:
"Packaged foods, especially those which have undergone a lot of processing, tend to be high in adverse nutrients such as saturated fat, salt, and sugar.  Therefore, in an ideal world we would all be eating predominantly whole, fresh, unprocessed foods.   However, cost, convenience and other factors mean that packaged foods are often included in our diets.
"The new Health Star Rating food labelling system will provide New Zealand consumers with a much-needed consistent front-of-pack nutrition label to enable them to compare packaged foods and make healthier choices more easily.
"The new front-of-pack Health Star Rating food label on its own is not going to solve our alarming rates of obesity and diet-related disease in New Zealand.  However, it is a positive step in the right direction, and one component of a much-needed multi-factorial approach to improving New Zealanders health. "
Dr Rachael McLean PhD, Senior Lecturer Public Health & Nutrition, University of Otago
"The recently announced decision to adopt a front of pack Health Star Rating food labelling system will be welcomed by many nutrition and public health practitioners as long overdue.  A simple front of pack label that consumers can understand allows consumers to choose products that are healthier, and encourage food manufacturers to reformulate and produce food items in order to achieve a better grade under the system.  Food